Welcome to Harpo's Das Butcher Haus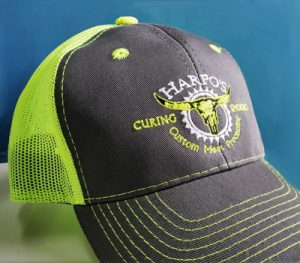 Please stop by and purchase one or more of our new hats. We are proud to give the proceeds to help local families whose members are going through cancer treatments. Help us help our community! Only $19.99
Welcome to the New Das Butcher Haus!
Darin and Judy invite you to stop by anytime to check out our specialty meats, cheeses, flavorings and seasonings! We now carry the BEST EVER Amish butter. And don't miss the goat milk soap and lotions!
Open
Mon- Fri: 8 am to 4:30 pm
Closed Saturday and  Sunday
75 County Rd 710 - Green Forest, AR 72638
870-438-6594
Same Quality, New Owners
Das Butcher Haus is a family owned and operated business that has been bringing top quality cuts of meat to the Ozarks since 1992. Darin and Judy Harper took ownership of the operation in December 0f 2016, and promise you the same level of quality and service you have come to expect from Das Butcher Haus.
We produce and sell some of the finest cured and smoked meats and bacon, right here in our own facility in Green Forest, AR.
We specialize in custom beef and pork processing. Das Butcher Haus has served thousands of satisfied customers throughout northwest Arkansas and southwest Missouri for over 20 years.
Whether you need custom processed livestock, or want to serve your family wholesome, locally raised beef and pork, come in and discover the Harpo's Das Butcher Haus difference.
Das Butcher Haus does NOT use "pink slime" in any of our products!
PLEASE NOTE: WE DO NOT PROCESS WILDLIFE