Our Retail Store
Our retail store is right at the front of the facility, and it's crammed with all sorts of delicious things to eat. You'll find meats in our freezers, the best-ever Amish butter, quality goat milk soaps and lotions, Holistic B&W Ointment (first aid for burns, cuts and sunburns) and plenty of other items you'll want to take home with you.
And - we now have HARPO'S Tee Shirts for sale! Only $19.99 in a variety of sizes. Come in for yours today!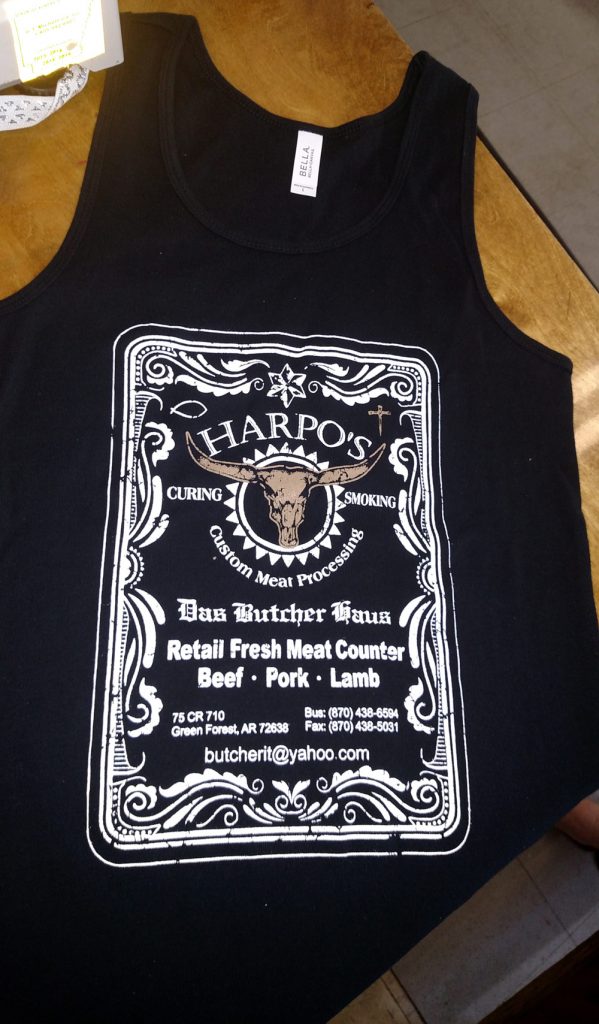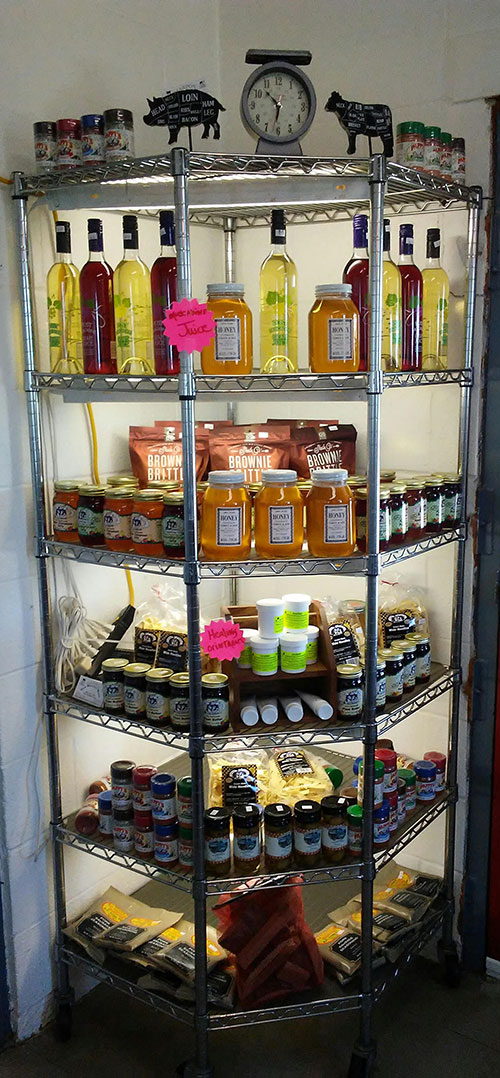 Our Meats and Current Retail Pricing
Choose from freshly ground beef to the best steaks, and fresh and smoked pork. Our sausages are country-smoked and bursting with flavor, using time-proven family recipes.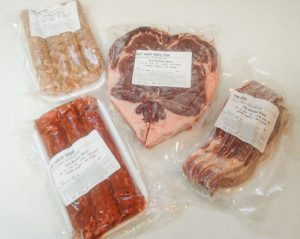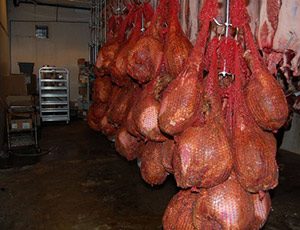 And if you're hungry for old-fashioned bacon that won't shrivel to nothing in the pan, you're in the right place. Our pork comes from area farms to our slaughterhouse, and is smoked and cured right here at our facility. Now that's real bacon! And we have customers who travel quite a distance so they can stock up.
We strive to be humble...but our hams are some of the best in the region. We take orders for the holidays, and our customers want them for every occasion.
A Customer Reminder
Please remember to bring your own ice chests or boxes when you come in to pick up meat.
Our Current Retail Meat Prices 
All prices are per pound.
BEEF
Beef side - Please call for current price.
T-Bone - $10.99
Boneless ribeye steak - $13.99
Sirloin - $7.99
Porterhouse - $11.99
Prime Rib - $15.99
Tenderized round steak -$5.99
Rump Roast - $5.99
Chuck roast - $5.99
Chuck Steak - $6.99
Fresh Brisket - $3.99
BBQ Brisket -$7.99
Hamburger - $4.99
Tri Tip - $6.99
Stew meat - $5.99
Cube Steak - $6.99
ALL  patties -  $5.99
New Item -  Bacon Burger -  $4.99
PORK
Corn Fed Hogs - Please call for current price.
Pork chops - $2.99
Pork butt - $2.99
Baby back ribs - $5.99
Country style ribs - $3.99
Butterfly pork chops - $4.99
Boneless pork chops - $4.99
Pork breakfast sausage - $4.09
Summer sausage - $7.99
Specialty sausage -Bacon Cheddar, Cherry or Apple- $6.99
Link Sausage  -  Bratwurst,  Chorizo, Italian or Andouille - $5.99
Ham- cured and smoked - $3.99
Hams-cut in half - $3.99
Hams- sliced - $4.19
Ham hocks - $2.79
Bacon- cured and smoked - $6.99
Bacon ends - $2.99
Fresh side - $ 3.99
New Item- Black Pepper Bacon - $8.99
TURKEY
Whole smoked turkeys are available at $3.99/lb.